To everyone
As knowing I have been gone for a long time, even I can see why I was furious through a stupid silly troll and why else I left, even I did deleted a lot through face book as well of my own way, and I know it hurts a lot of time when ever a person who gets mad a lot of time, bad things do happen a lot. So I had enough and I wanted to move on, even move out to do more things of the unknown and I know and you know, as well of the case about Amanda Knox, and today I am here to talk about this issue of Peter Quennell really said something into a virtual way of oh no he never meant Amanda Knox book. Sure maybe the woman forget about the book, and Opps it a problem, of what? Is it big deal? Nooooo it not. What the problem is Poor Peter comes up with an article of playing a game called: Runaway of his own cost, and here what poor Peter have to say to us through the crime of AK Book!!!
Watch on
youtube.com
PQ Wrote: Oops! Robert Barnett forgets to exult about his amazingness in selling the Amanda Knox book
So what Big deal, it bother you Peter!
PQ Wrote; The Costs Of A Runaway Hubris-Driven Bandwagon

Not solely for crimes of her own making, but the $10-million-plus bills that Knox & co (you included) may soon be stuck with is a no-brainer calculation.
•$5-plus million in costs and damages awarded against her by the Massei trial court and confirmed by the Nencini appeal court, incuding unpaid damages of nearly $100,000 to Patrick which Cassation already rendered final.

•$4 million for the book payment you arranged in defiance of Italian and American blood money laws (called Son of Sam laws in the US), big bucks in financial donations from numerous other misleading fundraisings (see the Knox website), and yet more big bucks for civil damages (see one criminal defamation described in the post under this one.)

Exactly How Many Red Flags Do You Guys Need?

Ahem. This also is a no-brainer. It's not like Knox's public lying was a huge secret. Waiting To Be Heard surely breaks Guiness Book records for ludicrous book titles.

Back in 2008 Knox's own Perugia lawyers had to ask her publicly, via the media, to please shut up and stop inventing things.

In fact, Amanda Knox can be extremely hard to shut up. After her conniption At Perugia's central police station 0n 6 November 2007 she not only insisted on writing out three statements, she also babbled on for large parts of the next five hours. That was despite attempts to knock her out - okay, calm her down - with camomile tea and carbohydrates.

Then came her two calamitous days in mid 2009 on the witness stand (see more below) and her leaked diaries (which actually did nail one malicious lie not her own), and her bizarre video, and multiple reports of her other doings in Capanne, and multiple interviews ever since.

One of which has entrapped Italy's Oggi as you can see here and here.

Knox's own lawyers (who surely never read her book in draft - hello?!) also never backed up any of her claims at trial.

If you had read the transcripts you would have seen that they were very very careful not to do so - in fact even the defense lawyers were very very careful not to do so.

Even the partisan Judge Hellmann concluded Knox was lying and both he and Cassation confirmed Knox's three-year prison sentence. To that there is no further appeal, and of course the time was served.

And the precise timing of the Knox book's release represents another legal millstone.

It came out AFTER Sollecito's book was sent to Florence prosecutors for investigations and AFTER British and Italian editions were cancelled by HarperCollins's own lawyers and AFTER the Italian Supreme Court reverted Knox's status to "guilty pending any final appeal" leading to HER appeal which failed last January.

Red flags were up all over the place. Even other American publishers were warning you.
Red flags is a gudie of book, I am not sure where Peter getting the red flag. I do see red flag in Hawaii so many times, of why the waves are so dangerously and care Hawaiian people ignore the red flag, just like what they are doing right now!
Is anyone sueing the Author. Hmmmmm Nope, nope, nope, I see nothing in the head lines, I only see trolls write silly things of not making facts into a court of law. It only make believe, come on Peter think before you use your head!
Gee a red flag is being warn. Oh no, how many books has been publish, even when ever a crime is over, it there story and it their living and we have to regret it. Come on Peter you can do better then that!
PQ Wrote: Dr Mignini Portrayed Knox As A She-Devil

During the rebuttals, on December 3, each lawyer was given a half hour to counter the closing arguments made over the past two weeks. Speaking for me, Maria criticized Mignini for portraying Meredith as a saint and me as a devil

Really? Prosecutor Mignini said that? So why did the entire media corps report that it was said by Patrick Lumumba's lawyer Carlo Pacelli? As the BBC reported it
Dr Mignini, I am not sure Mignini was never a doctor at all. Where did you think he a doctor!
But first I am not here to give you all detail, so I will let you to read this, right now of what he wrote through Poor Peter words!
http://www.truejustice.org/ee/index.php ... o_realize/
Ok back to the doctor of the foe or no foe, of why we think Peter want to play a doctor of Prosecutor Mignini. No Peter, a prosecutor is not a doctor, at all, even he was never a doctor. What he was a lawyer of doing his job through law of practing the law, and you come up with a doctor of this silly nonsense. Seriously Peter!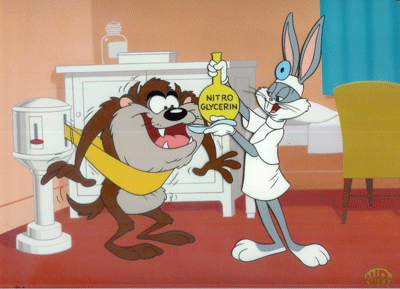 Sure we see Bugs Bunny as a doctor, even it make believe, even if someone is a doctor they must have a degree to go to medical school, and if Guilano Mignini went to Medical school and I doubt you said he did, then you must need proof of that part, in both ways. So there fore, you got it all wrong!
Why is TMJ here? I am only here to give a head up start to start a rumor of crime or action, or let just say, I am only showing something special if it is facts or no facts, but telling it like a story or reading a book is another way. I assume a lot might not read it. Will I get replies, even I would love it, as well, even I explain my own roots of detail about this, and reason, and I am not thinking to come back, even I did in fact ask someone to updated me? But it never happen, of why I left a post in my blog. So did anyone saw it, and talk about it. No! I decied to leave this special announcement of right now, for a great cause and let see what happen. I will return Wednesday. I only want good positive thing of why I care for the innocent and do my duty of why I care and that all I have to say and talk to you soon everyone!